Plesk Sitebuilder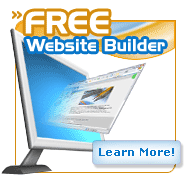 Use our free Website Builder to create your own website. Choose the graphical look you want, add your logo, write the content, and publish your website. In less than an hour, you can have your website online. You can change it at any time.
Try the Plesk Sitebuilder Program
You can use the Plesk Sitebuilder Demo to try creating your own website here.
Start Building Your Own Website
When you are ready to begin building your own website, all you have to do is sign up online for a hosting account.
Once there, you can sign up for a domain name, hosting account, and ask that the Plesk Sitebuilder program be installed for you. And, with our special prices, you will receive a free domain name, free setup, and free use of the Plesk Sitebuilder program for as long as you host with us. Just that simple.
Any questions? Please call us at 248-336-7843.